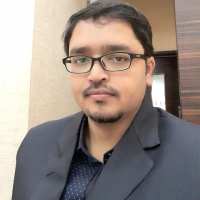 Dr. Rakesh Kumar
Suspense, Mystery, Romantic Suspense, General Nonfiction
Profession

Computer Scientist
Born on 14th March 1990 to Mr. Manoj Kumar and Mrs. Anita Sharma at Ranchi. Dr. Rakesh Kumar completed his schooling from Cambrian Public School, Kanke Road, Ranchi in 2007 only, but he was not in a position to continue his higher studies due to his family's poor financial condition. That is the reason why, he decided to start freelancing and software development in the month of December 2009 just to start his family financially. He had a strong zeal to be a Software Engineer. Then after around 2 years, he took admission in B. Tech (Computer Science Engineering) at Cambridge Institute of Technology, Tatisilwai, Ranchi. He indulged himself in Computer Science Researches there at CIT. From August 2011 – till date, he has completed 15+ successful independent researches in the field of Programming Language Design, Information Security, Cryptography, Steganography, Variable Password, Digital Image Processing, Artificial Intelligence etc. He completed his B. Tech in the year 2015. He handled many research projects of M. Tech, PhD Scholars and Foreign Clients.
Video
Raks. M. Plus (Demo Version)
Freedom is not given - it is taken.
Subhash Chandra Bose
When you stop chasing the wrong things, you give the right things a chance to catch you
Lolly Daskal
The will to succeed is important, but what's more important is the will to prepare.
Bobby Knight
We can do anything we want to if we stick to it long enough.
Helen Keller